After seven years of total denial, Maggie Raynor's body—and her inner wolf—are in full revolt. Weak and shaky, she literally falls into the very large and capable arms of the Granite Lake Beta, Erik Costanov. The last thing she wants is a mate, particularly when just looking at another wolf scares her to death. And one as big and sexy as Erik? Really bad idea, no matter what her libido says.
Erik expected to meet Maggie in Whitehorse to escort her to the home of her sister, his pack's Omega. Sheer chance puts him in the right place at the right time to catch her, but the realization that hits him with the force of a full body shot is no accident. She's his mate. An even bigger shock? She wants no part of him—not until she resolves her issues.
She'll have to work fast, because they're both selected to represent the pack during the premier sporting event for wolves in the north. Not only will she have to work as a team with Erik, she'll have to face down her fear of wolves. Especially her own.
Let the Games begin.
Granite Lake Wolves Series:
Wolf Signs
(Novella)
Wolf Flight
(Novella)
First Howl
(Short Story free on Vivian's
website
)
Second Howl
(Short Story free on Vivian's
website
)
Wolf Games
(Novella)
Wolf Tracks
(Novella)
Wolf Line
(Novella)
Wolf Nip
(Novella)
Takhini Wolves Series:
(This is a spin off from the Granite Lake Wolves series but can be read separately)
Black Gold
Silver Mine
Diamond Dust
Moon Shine
Takhini Shifters Series:
(This is a spin off off the Granite Lake and Takhini Wolves series but can be read separately)
Copper King
(Novella)
Laird Wolf
(Novella)
Visit
Vivian Arend's website
for more information
Review:
Maggie is Missy's sister (we met Missy in the last novella
Wolf Flight
) but she was so traumatised by events in her past that she hasn't seen her sister or spent any time with other wolves for nearly a decade. Missy has finally managed to convince Maggie to come and visit her and her new pack but Maggie is very wary and not looking forward to being surrounded by wolves.
Erik is the Granite Lake pack's beta (second in charge) but as a favor to Missy he offers to collect Maggie from the airport and make sure she arrives safely. As soon as they meet he recognises that she is his mate but Maggie doesn't trust the tie between them and Erik is going to have to convince her that they are meant to be together.
I really enjoyed the first 2 novellas in the Granite Lake series so I was really looking forward to reading
Wolf Games
, let me just say
Vivian Arend
didn't disappoint & this was probably my favorite story in the series so far. Vivian sure does manage to pack a lot into her novellas and although I would love to have one of these stories as a full length novel that is more because I just can't get enough of her wolves than because there is anything lacking from the stories.
Maggie has had a tough time when it comes to other wolves and she finds it impossible to trust them - completely understandable when you find out more about her past. Although she is attracted to Erik she is scared of the bond between them. She is having to deal with being around wolves for the first time in years and when she is forced to become a competitor in the Wolf Games she finds it really difficult. I loved Erik, he is so supportive and protective of Maggie and is determined to help her see how good life could be with the pack. He is also smoking hot but you'll have to read the story to find out just how sexy he is!
I really enjoyed watching them take part in the Wolf Games, they were kind of like the Amazing Race for werewolves & it was fun to see how things panned out. We get to see more of TJ as he is another member of their team - I'm sure I mentioned in my previous reviews how much I love TJ & I am so excited to read his story which is released in October! As usual TJ added a lot of comedy to the story with his clumsy ways, he would definitely be a fun guy to have around. We were also introduced to Jared (another team member) who I'm looking forward to getting to know better in future stories.
Wolf Games
is a great installment to the Granite Lake Wolves series and I'm looking forward to reading more from
Vivian Arend
. I'd definitely recommend this series to fans of steamy paranormal romance - these novellas are perfect for when you want a quick but fun read and I'm sure you'll enjoy them as much as I have.
Source:
Purchased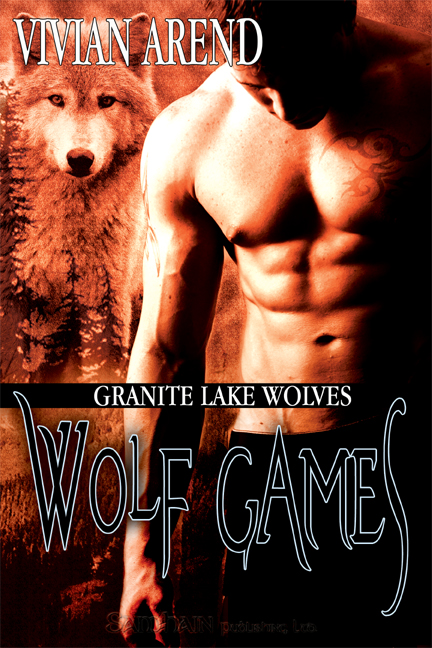 Original Cover
Other reviews of this book:
If you have reviewed this book on your blog please leave a link to your review in the comments & I'll add the link here.