*UPDATE - THIS GIVEAWAY HAS NOW ENDED - Winners
In order to celebrate the release of her first book
Black Legacy
I'm thrilled to be able to welcome
Juliana Stone
here to chat to us.
Black Legacy
is the first book in Juliana's new Black Opals series and is available now for purchase as an eBook
here
. Juliana has very kindly offered to send a free copy of
Black Legacy
to one of my readers - find details of the giveaway after the interview.
Frankie Black is a woman in need of a mission. For a Black Opal—a warrior woman who shifts backward or forward through time in order to, well, save the world—the last six months of downtime have left her bored. Restless. And with a feeling that something is about to hit the fan.
Finally, an assignment: save the life of Dekkar James, an infamous rock god living three hundred years in the past. Tattooed, ruggedly handsome and perfectly imperfect, one look at him and it's as if her sleeping body springs to life.
One minute Dekkar is having the most mind-blowing sex of his life. The next, goons are breaking down his door, and he's on the run with a woman who turns from lover to warrior in the blink of an eye.
Dealing with the New Order, operatives who manipulate time without regard for the consequences, is nothing new for Frankie. But this time their tactics have a more personal edge—they've found a way to seek out the Opals' predestined mates.
Unless she can save Dekkar's life, her future will be the first casualty in a battle for the fate of humankind.
Warning: Contains one hot dude with tattoos, a woman who won't take no for an answer, steamy sex, an ancient Harley and a little bit of time travel.
----------------------------------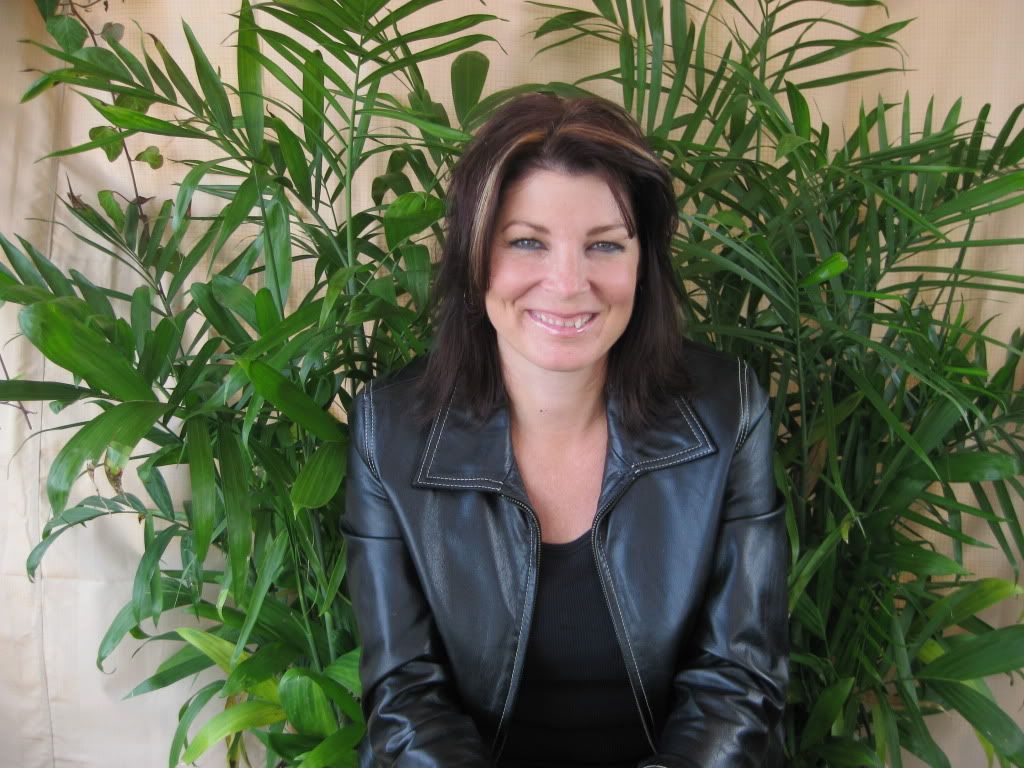 Interview with Juliana Stone
S: Thank you so much for coming to chat with us today Juliana, it's great to have you here!
S: Can you tell us about yourself?
JS: Hello Sarah! There's not much to tell! I am a wife and mother of two kids who keep me hopping. I live in Canada, love to play baseball and golf and live for my family and friends!
S: It mentions on your website that you used you be a lead singer in a rock band. That must have been a lot of fun - do you have any stories you can tell us from your touring days?
JS: LOL, yes being on the road with an all girl rock band back in the late 80's was interesting to say the least. There are way too many stories to choose from, a lot I probably shouldn't share! I was very young and grew up in a hurry let me tell you! I did meet my husband while singing though….He was a guitarist in another band and their truck broke down in the town I was playing in. We had the same booking agent so they came to our hotel and we met and have been together ever since!
S: Do you still have time to do any singing?
JS: We do! We play for fun but my husband and I, along with two friends have a band that gigs around. We do all retro 80's stuff and it's a total blast! Our son is an amazing guitarist and has joined us on stage as well.
S: I love to find out what sort of music my favorite authors like. Do you have a sound track you listen to when you're writing? What kind of music do you listen to?
JS:
I'm the type of writer who needs absolute silence when I'm writing. I tend to talk a lot as I write and just need to listen to myself as the words roll off my tongue. I do like to listen to music before I write sometimes, to get me into a certain frame of mind. Like if I'm going to write an emotional scene I'll listen to something that pulls that emotion. But as for my everyday listening, I like all kinds! From Sixx Am, to the Dixie chicks, Foo Fighters to Def Leppard……I love all kinds of music.
S: What is your writing routine - where & when do you write?
JS: I write in the morning and at night. I have a lap top and either write in the family room or the office. I like being able to go anywhere. Again I need the silence thing so sometimes it's a question of escaping the noisy family!
S: Do you have any advice for would-be authors?
JS: My advice would be to hook up with other writers, people that will support you as you further your career. This business is not for light weights. There is a lot of rejection and it can wear you down. You need to be around people who are going to pick yourself up. Do research, learn everything you can about this business, because at the end of the day it is that….a business.
S: Can you tell us a little more about
Black Legacy
and your
Black Opals
series?
JS: Black Legacy is the first in a time travel series that involve a family of women who protect the delicate fabric of time, from rogue jumpers who would manipulate it for their own evil purposes. In the first book, the Opals learn that The New Order has discovered a way of finding their predestined mates. They've marked them for assassination. The ladies need to save them or their line will not continue. The ability to time shift is passed down from mother to daughter.
S: Your first print book
His Darkest Hunger
is being released on April 1st 2010 and is the first book in your
Jaguar Warriors
series. Can you give us some more information?
JS: I think the blurb sets it up perfectly:
Jaxon Castille: jaguar shifter, warrior, assassin. He has long hungered for the chance to make his former lover, Libby Jamieson, pay for her deadly betrayal. After three long years he's finally found her. The hunt is over . . .
But the Libby that he finds is not what he expected. She has no memory of their tumultuous affair, of her treachery, of anything beyond her own name. A shadowy and deadly clan has marked them both for death, and in an instant, he game changes: the hunter has become the hunted.
On the run, with the ghosts of their past between them and a dark, desperate hunger quickly reclaiming their bodies and souls, Libby and Jaxon must discover the truth behind the dark forces working against them. Together, they must grab hold of a destiny that has the power to either heal them or destroy them.
But the truth is far more shattering than anyone could imagine . . .
S: Do you have any new projects on the go?
JS: I am currently working on the third book in my jaguar warrior series. I'm also working on a YA and will continue The Black Opal series.
S: I'd like to say a massive thank you to Juliana Stone for taking the time to visit us today. It's been great fun chatting to you & I hope you've enjoyed it as much as I have.
You can find Juliana online at her
Website
,
Blog
,
Facebook
or on
Twitter
Don't forget you can also purchase
Black Legacy
by
clicking here
----------------------------------
Giveaway Details:
Juliana has kindly offered to send one lucky commenter a PDF copy of
Black Legacy
. This giveaway is open to all and entries will be accepted until Sunday 14th Feb. The winner will be chosen using a random number generator and announced here on Monday 15th Feb. I will try to contact the winner (if you leave a blog / email address) but if no contact details are given it will be your responsibility to check back here to see if you've won. The winner will have 48 hours to contact me, after which time another winner will be chosen if I've not been contacted. I will need to give Juliana the winner's email address but it will not be used for any other purposes other than to send you your eBook.
How to Enter:
Leave a comment on this post
Extra Entries:
Follow this blog & let me know in a seperate comment
Tweet or blog about this giveaway and let me know in a seperate comment (please include link to your blog / tweet). If you do both leave a separate comment for each post for extra entries into the contest.