On Thursday my Dad and I were lucky enough to be one amongst hundreds of
Terry Pratchett
fans to get the chance to attend the Memorial event held at the
Barbican Theatre
in London. We both fell in love with Terry and the many
Discworld
characters over 20 years ago so I'm sure you can imagine we were thrilled to get much sought after tickets for this event but it was a kind of bittersweet moment and as excited as we were to attend we're both still heartbroken that the world has lost such a wonderful writer.
We set off really early and ended up spending a couple of hours before the event in the courtyard outside the Barbican. It was a beautiful sunny afternoon and it was lovely to get a chance to chat with other fans and share memories of Terry and talk about what the series means to us all. I think my Dad was a bit horrified that I'd insisted on getting us both costumes for the event but I'm glad we made the effort and although less people had dressed up than we expected we did spot Lord Vetinari, several versions of Twoflower and the Queen of Elves walking around!
On entering the auditorium we found wonderful goody bags had been placed on every seat which was a lovely gesture and contained items I'll treasure forever. They had thoughtfully included a pack of tissues (which came in handy later on in the evening!) printed with the Pratchett family motto "Noli Timere Messorem" (which translates to Don't Fear the Reaper), a pack of postcards featuring Terry and some of the most well known Discworld characters, a bottle of Ankh water (I'm not sure how safe this is to drink but if Mustrum Ridcully is to be believed "Anything that's passed through seven pairs of kidneys has to be very pure indeed"), a tin of Dried Frog Pills and a gorgeous purple memorial pin. My favourite item would have to be the specially printed book "
Terry Pratchett: From Birth to Death, a Writer
" there are so many beautiful touches to this book, from Terry's silhouette on the front and the family crest on the first page, through to the honeybee and the roman numerals for 1948 - 2015 printed on the back this book has obviously had a huge amount of thought put into it. It includes an introduction from Rob Wilkins, several of Terry's essays and quotes from Discworld along with the speeches read by Rhianna Pratchett, Neil Gaiman and Sir Tony Robinson during the memorial so it's a wonderful keepsake.
Terry Pratchett: From Birth to Death, a Writer
The event was opened by Lord Vetinari who threatened death and dismemberment to anyone in the audience who tried taking photos or who didn't have their mobile phones switched off and the whole evening was hosted by Terry's good friend and assistant
Rob Wilkins
.
After a brief intro things kicked off with a stunning rendition of Spem in Alium by
The Ephiphoni Consort
, I couldn't find a video of them singing the song but they were absolutely fantastic and I'd highly recommend attending one of their concerts if you get a chance.
This isn't the correct choir but it is the song they sung and one of Terry's favourites:
While the choir was singing there was a video showing all of Terry's book covers (all 70 of them!) falling through an hourglass and the atmosphere felt quite solemn while we were left to our own thoughts. Things quickly livened up when Rob came back on the stage though and he lightened the tone by talking about what Terry had wanted for his memorial. Terry's first wish was that he could be there himself but if that wasn't possible he wanted lots of humour, plenty of swearing and for Rob to use both "fuck" and "bugger" which he did before promptly apologising to his mum who was in the audience!
Throughout the evening there were lots of incredibly emotional tributes to Terry but the tone was always lightened with funny stories about Terry's rating system for book signings and hotels or the disastrous time he and
Neil Gaiman
attempted to walk from a signing to an hour long radio interview in LA and ended up missing the first 45 minutes of air time. Terry's daughter Rhianna read the
obituary she wrote for her father
, Neil Gaiman read his foreward for
A Slip of the Keyboard
, Sir Tony Robinson read an
extract from Terry's Richard Dimbleby Lecture
and Rob read out a letter that he'd received from Terry posthumously. We heard stories from staff at Terry's UK Publisher
Transworld
, from his British and American editors, from artist
Paul Kidby
, from The Cunning Artificer himself sculptor
Bernard Pearson
alongside tributes from many other friends and colleagues.
British folk band
Steeleye Span
came on stage several times to sing songs from their
Wintersmith
album that was inspired by the first three books in the Tiffany Aching Discworld mini series including the popular Dark Morris. It was obvious that Terry had a long history with the band and the lead singer Maddy had even visited him in his final days to sing for him one last time.
Several important people in Terry's live were invited on stage to be awarded membership of the Venerable Order of the Honeybee. They were presented with stunning bumblebee pendants that had been created to Terry's original design and Rhianna was given a special ring version to show her importance as Queen Bee of the Order. One of the most moving moments of the night was when Rob presented Neil Gaiman with Terry's trademark hat, Neil was obviously very moved to receive it and he wasn't even able to bring himself to put it on while still on stage. I did see him tweet this picture later though, and yes, it did make me sniffle all over again!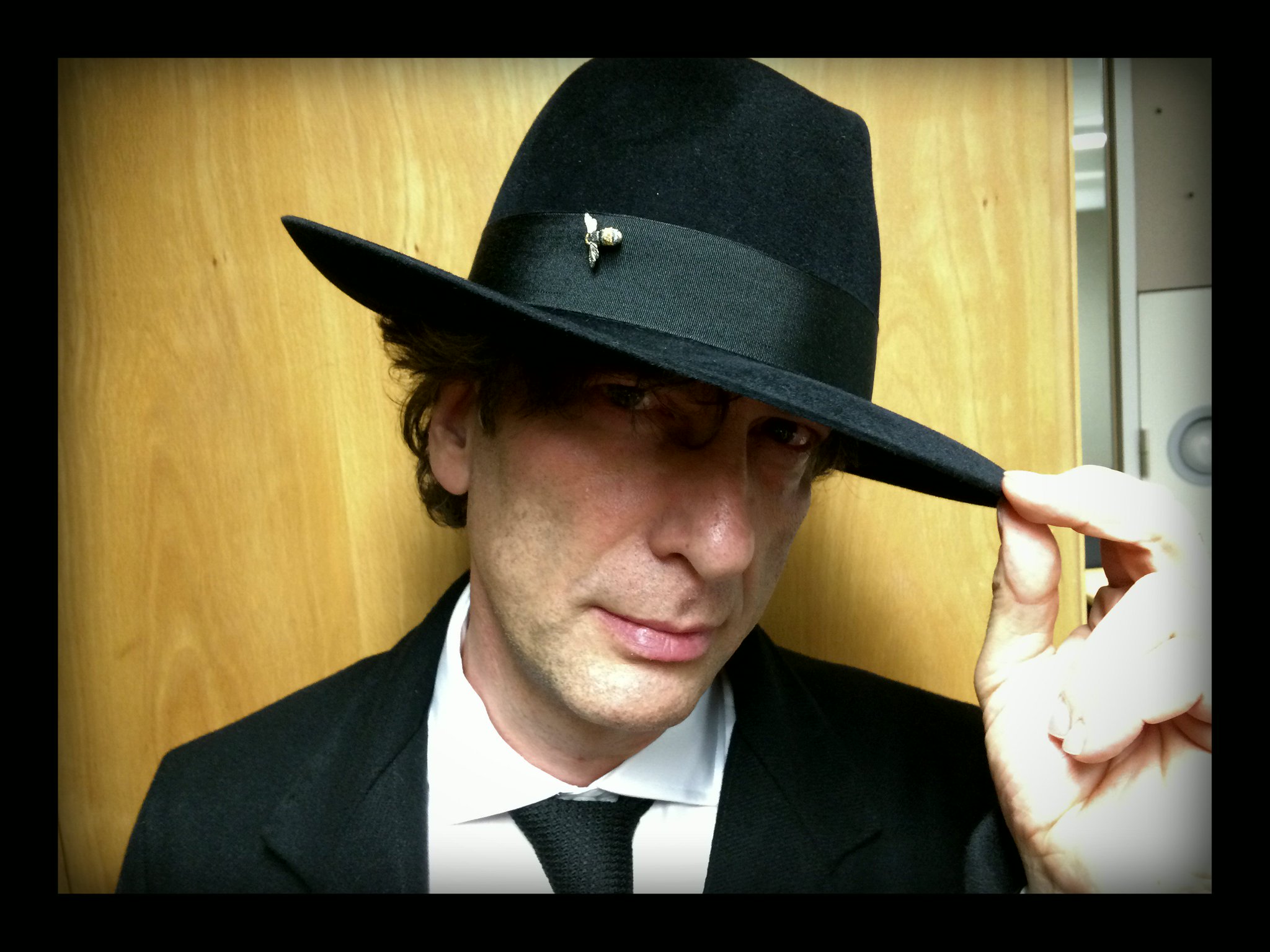 Neil Gaiman wearing Terry Pratchett's hat
We were shown clips of the three BBC documentaries Terry took part in:
Living with Alzheimer's
,
Choosing to Die
(about assisted suicide) and
Facing Extinction
(where he travelled to the jungle in Borneo to look at the plight faced by orangutans) and the same team were actually filming the memorial for a fourth documentary in the trilogy that will be a celebration of Terry's life. They already have over 4 hours of footage of Rob and Terry in conversation taken over the last few months of Terry's life and will be using that alongside what was filmed at the memorial.
Before going on to talk about future projects we were shown snippets from the current TV adaptations of
The Colour of Magic
,
The Hogfather
and
Going Postal
. Rob and Rhianna both confirmed that although they are aware of at least 10 new Discworld novels that Terry was working on before his death they will never be completed and they will also never allow any other author to write new Discworld novels. I have to admit I was actually quite relieved about that, it just wouldn't feel right to continue the Discworld series with anyone else at the helm.
There are still plenty of exciting things to look forward too though, I may have forgotten some but this is what I can remember:
The Discworld Colouring Book (Aug 2016) - this was announced quite some time ago so I'm sure it's something most fans are already aware of but we heard from Paul Kidby about how much work has gone into turning his full colour illustrations into black and white line drawings (around 60 hours per page!!). We also got to see quite a few pages and there is no doubt the book will be stunning.
Small Gods Graphic Novel (July 2016) - We also got a glimpse at some of the pages for the upcoming Small Gods graphic novel and I'm sure it's going to be fantastic.
Terry Pratchett Biography (No date given) - it was confirmed that Rob Wilkins will be writing the Official Terry Pratchett Biography which seemed rather fitting since there aren't many people who knew Terry as well as Rob did.
Discworld Encyclopedias (No date given) - Rob and Rhianna will also be working on a series of Discworld Encyclopedias, something which Terry had always wanted to do when the series was complete.
A 4th BBC Documentary about Terry Pratchett's life (no date given) - As mentioned above they are already working on a new BBC documentary, they recorded more footage at the memorial (my Dad even gave a brief interview as we left the theatre) and I'm hoping it won't be too long before we can watch the completed documentary.
Troll Bridge Movie (no date given) - Troll Bridge is a fan made movie that has been in the works for a long time but is nearing completion. You can find out all about it at the Troll Bridge website.
Good Omens TV Adaptation - It was confirmed that Neil Gaiman will be writing the screenplay for this which caused a lot of loud cheering from the audience. When Rob first approached him about it Neil was adamant that he didn't want to be involved because everything to do with Good Omens, even down to creating publicity bookmarks, was always done in collaboration with Terry, but after receiving a posthumous letter from Terry urging him to go ahead Neil didn't have much choice but to agree. Neil let slip that it will be a 6 part TV series but we weren't given any information about when we can expect to see it on our screens.
The Wee Free Men - Rhianna is currently working on the screenplay for this but I'm not sure if it'll be a movie or a TV series. They did say we could expect a big announcement about it at Comicon later this year though so we shouldn't have to wait too long for more news.
Mort - Terry Rossio (the second highest grossing screenwriter of all time who gave us movies like Aladdin, Shrek and Pirates of the Caribbean) is working on the screenplay for a Mort movie, that's definitely going to be one to watch out for!
Night Watch - it was also confirmed that the Night Watch adaptation is going ahead but again we were given no information about the format or when to expect it.
Rob ended the evening by thanking both his own and Terry's family and left us with a couple of appropriate Discworld quotes:
"DON'T THINK OF IT AS DYING," said Death. "JUST THINK OF IT AS LEAVING EARLY TO AVOID THE RUSH."
- Good Omens
No one is actually dead until the ripples they cause in the world die away
- Reaper Man
Before he could leave the stage Neil Gaiman presented him with a video of Kylie's greatest hits that actually turned out to be a video message recorded by
Eric Idle
who led the choir and the entire audience in a sing along rendition of Always Look on the Bright Side of Life.
I'd like to say a huge thank you to everyone who was involved in making this event evening happen, it was a wonderful and fitting tribute and I feel honoured to have been able to attend. I've written this to the best of my memory but since I didn't take notes during the event there may be unintentional mistakes. I'll be happy to correct anything or add things I missed if people let me know in the comments though!