It's time for another round up of some of the bookish news I've come across recently. First up
HarperCollins
have created a game on Facebook to celebrate the launch of
The Rising
by
Will Hill
. Test your powers of observation by watching the video below and then heading to the
Department 19 Facebook page
to answer questions about it and you could win a spy training day for you and your friends!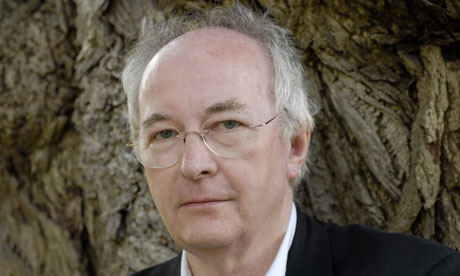 Philip Pullman
Did you see the
article on The Guardian website
confirming that
Philip Pullman's
next book is going to be an anthology containing his versions of 50 of his favourite
Grimm's Fairy Tales
? I'm looking forward to seeing his take on the classics like Cinderella, Snow White and Rapunzel - I love a good fairytale retelling - but I'm even more curious to discover new to me stories like Hans-My-Hedgehog and Godfather Death. The book will be published in September by Penguin Classics and has been timed to coincide with the 200th anniversary of the first publication of the original Grimm's Fairy Tales.
Have you heard about the
Chipping Norton Literary Festival
being held from the 20th to the 22nd of April? It sounds like a great opportunity to meet some fabulous authors! Unfortunately I won't be there but I'd love to hear all about it from anyone that does go. Here is the press release with all the details or you can find out more at the
Chip Lit Fest website
:
Fifty events throughout Chipping Norton
Hear your favourite author and learn how to become one too.
For aspiring writers, Chipping Norton Literary Festival sets the tone. There are lots of events on getting started, finding your 'voice', keeping focused, finding your genre, as well as one-on-one meetings with established authors and other writers.
Come April, Chipping Norton will be in the news again as organisers launch the town's first literary festival. The event will take place at venues convenient to the centre of Chipping Norton and will include speakers such as Mark Billingham, Joanna Trollope, Colin Dexter, Katie Fforde, and Sir Andrew Motion. In total about fifty literary luminaries will be participating.
For aspiring or developing writers there are a host of useful workshops and panel discussions on topics such as…
How to break into freelance writing
Life writing
Writing historical fiction
Author, agent & publishers
Bringing your characters to life
A rough guide to travel writing
Writing humour
Writing short stories
Crime Writing Workshop
How to Get Published – panel discussion
Book Groups and the Novel chaired by Sue MacGregor
Events will be held at The Theatre, Jaffé & Neale Bookshop and Café, and the historic Town Hall. Chipping Norton is easily accessible via car or trains to Kingham, Charlbury, and Oxford.
The idea originated via WOW, the West Oxfordshire Writers group. Local to Chipping Norton, they meet twice a month to discuss creative writing, how to get published, and how to go about writing within various genres. Thus the Festival has a host of events which will be of interest to aspiring writers.
And in addition to being known for its array of celebrity residents and now putting itself on the map with the ChipLitFest, as it is known, Chipping Norton itself is a fine example of Georgian market town architecture and a splendid setting for taking in talks as well as the town.
Other Topics and Events include:
Fiction
Emily Barr, Elizabeth Buchan, Julie Cohen, Josceline Dimbleby, Katie Fforde, Louise Harwood, Veronica Henry, Angela Huth, Prue Leith, Jill Mansel, Sir Andrew Motion, Joanna Trollope, Fiona Walker.
Crime/Mystery
Mark Billingham, Helen Black, S.J. Bolton, Colin Dexter, Sophie Hannah, Dan Waddell
History and Biography
Carole Angier, Sally Cline, Mick Conefrey, Robert Hardman, Mark Johnson, Penny Junor, Ian Mathie, Fiona Mountain, John Julius Norwich.
Gardening
Cotswold Gardening – panel discussion with Roddy Llewellyn,
Robin Lane Fox, Andrew Lawson
Humour
Guy Browning, Jasper Fforde, Graeme Garden, John O'Farrell,
Sandra Smith.
Jonathan Stroud
Random House Children's Books
have announced that they have signed a deal to publish a new supernatural thriller by
Jonathan Stroud
in 2013. The book is going to be called
Lockwood & Co
and will star three young operatives who work for a Psychic Detection Agency fighting an epidemic of ghosts in London. Sounds fab doesn't it, it's just a shame we have to wait so long to get our hands on it! Check out
Jonathan Stroud's blog
for more information.
If you're a fan of
I Am Number Four
by
Pittacus Law
then you'll definitely want to head over to the
Facebook fan page
on Monday (the 2nd of April). To celebrate the paperback release of
The Power of Six
on the 12th of April
Penguin Books
have created a game where using your knowledge of the series could win you some fantastic prizes.
The Power of Six Quest
won't be up on Facebook until Monday but here is a bit more information about how it works and the prizes that will be available. Good luck to everyone who enters!
We have created a Facebook game called The Power of Six Quest - a game show that draws on your knowledge of the books to help the Loriens fight against the Mogadorians and track down one of the characters in the book, Seven.
Points are collected by speed of which contestants answer questions (there's a countdown clock for added urgency and pressure!), accuracy of answers and how many friends a player recommends to play the game. Prizes are awarded to players who collect the most points.
The amazing prizes Prizes include:
a holiday to Spain for Seven nights!
an ipad
a kindle
special release hardbacks of The Power of Six
advance special release hardbacks of Rise of Nine (published in August)
DVDs of the film I am Number Four
Game play will be open to all from 2nd April 2012 at our Facebook page
http://www.facebook.com/IAmNumberFourBook
OK well I think that's everything for now so I'm going to leave you with the book trailer for
Gemma Malley's
new novel
The Killables
. The book was released in the UK yesterday and sounds fabulous, I'll be reading my copy soon so keep an eye out for my review.